Cross Country Team Tackled A Hard Course by: Aidan Werner, Senior Sports Editor. On Saturday, September 10th, the Liberty Christian Prep Cross Country team ran their second race of the season at Mt Dora Christian's 47th Annual Cross Country Invitational! The course is the 3rd hardest course in the state of Florida and is known for a large of amount of hills. LCP finished 5th in the race with Iskandar Wager, finishing first on the team and 20th overall, with a time of 23:13.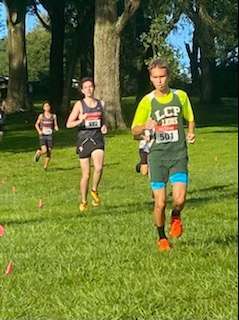 Fighting through adversity! The lady lions varsity volleyball team started strong against North Kissimmee, going up 2-0 in the first two matches. The opposing team came back strong and tied it at 2-2. The lady lions didn't fold when faced with adversity, and rallied to win the last match, securing the big win. This moves the team to 3-3 on the season.

This Week at LCP - September 6th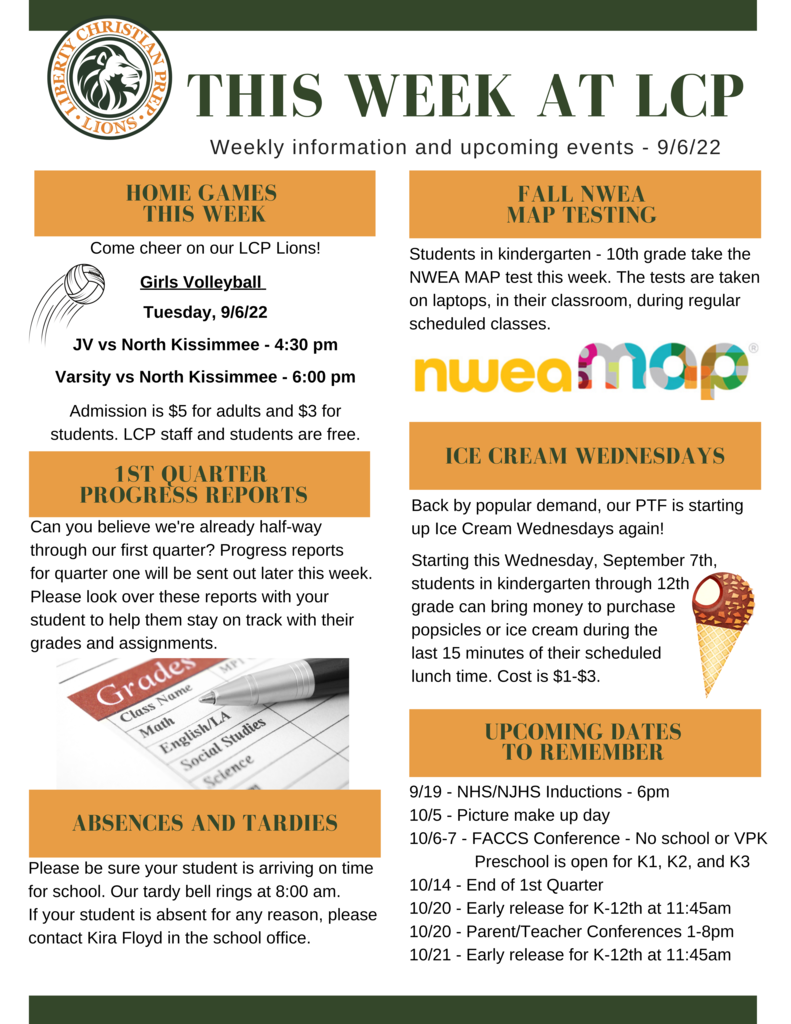 This Week at LCP - August 29th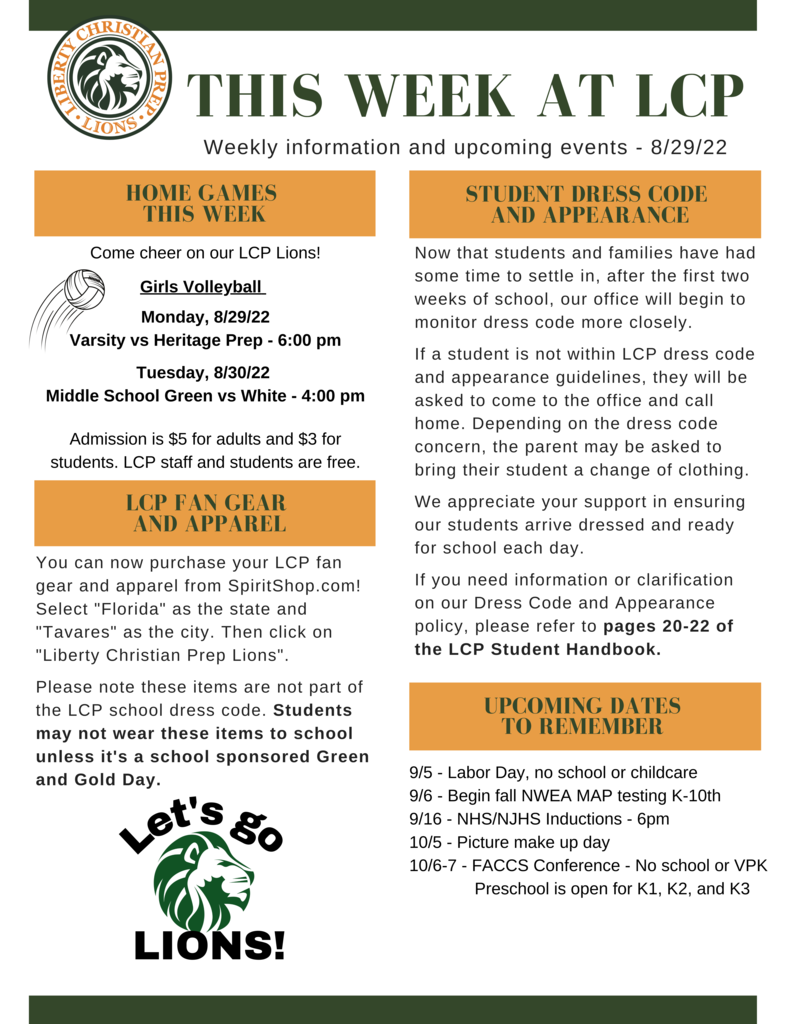 This Week at LCP - August 22nd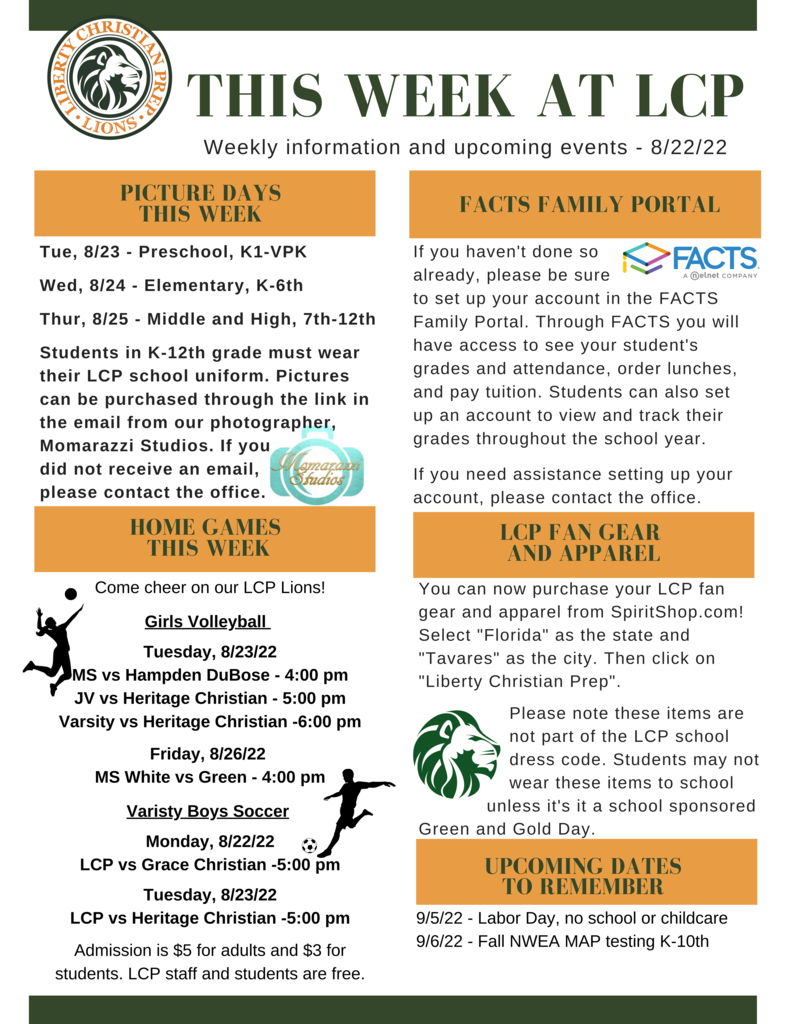 It's Orientation Day! K-6th grade class lists are on the front doors of the school now. 7th-12th grade schedules will be available in the sanctuary at orientation. Last names A-F 2:30, G-O 4:00, P-Z 5:30. We will begin in the sanctuary at those times. We are exited to see all K-12 families at orientation!

School starts in just a few weeks! Below is a list of the items your student will need for school this year. - LCP school uniforms (kindergarten-12th grade) - Backpack - Lunchbox - ESV Bible (1st-12th grade) All other school supplies are included in your student's material fee.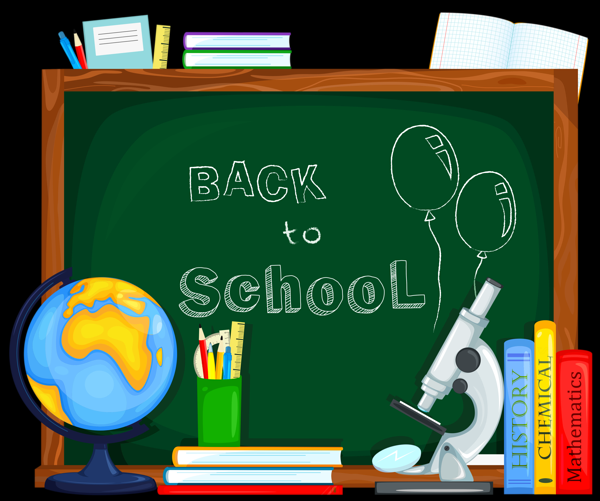 We're Hiring!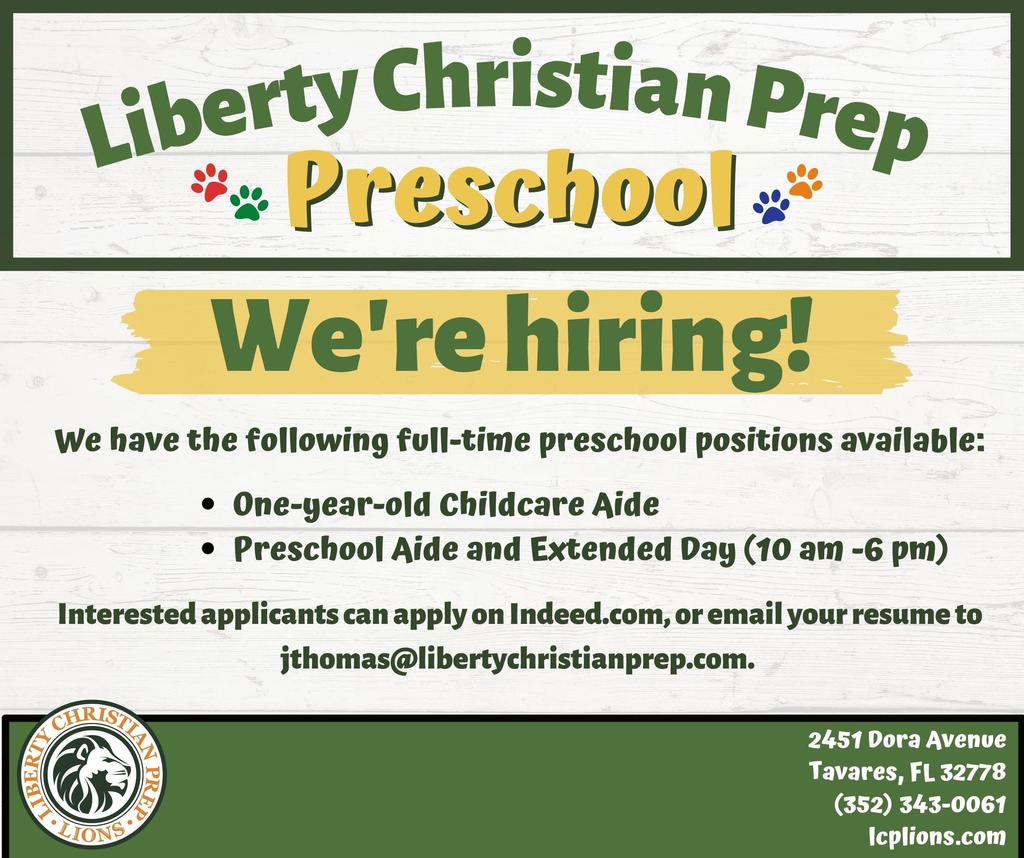 Join Our Team!

Liberty Christian Prep is excited to announce our new High School English and Social Studies Teacher, Ms. Jensen. "Greetings! My name is Bethany Jensen, and I'm thrilled to say this will be my 6th year teaching. I grew up in Orlando, Florida, and graduated with a Bachelor's degree in English and Communications from Rollins College. I began my teaching career in the Lake County School District only after discovering my love for teaching/ministering to children through the Lake County 4-H Program. While there, I helped manage and organize volunteers for their youth programs. The program gave those children a positive outlet where they could learn financial literacy, leadership and citizenship, all while working together as a team. My love for these children and this program is what encouraged me to begin my teaching career. Currently, I live in Lake County, and have two children, Anna and Tucker. I enjoy cooking, reading, watching movies, and spending time with my family. I look forward to meeting all of my students and becoming a part of the LCP family where I can help your children to grow." Welcome to the LCP family, Ms. Jensen!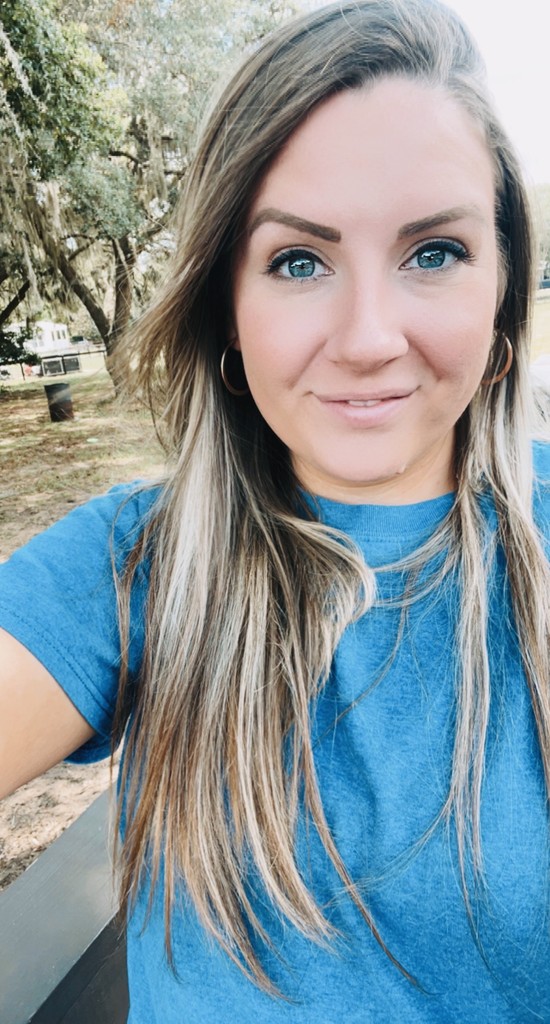 Liberty Christian Prep is excited to announce our new 1st Grade teacher, Mrs. Mang. Mrs. Alison Mang has over thirty years of experience teaching in Christian schools. She received her degree from Hope College in Holland, Michigan, and has taught from kindergarten through ninth grade. Mrs. Mang also attended the three levels of training required to be an educational therapist with the National Institute for Learning Development (NILD). She also received training in Archie Silver and Rosa Hagin's Search and Teach program. Mrs. Mang enjoys seeing her students' "light bulbs" come on when they wrestle with and understand the principles of learning. She loves teaching all subjects, but especially Bible. Mrs. Mang believes memorizing Scripture is important as those verses are a source of help and comfort when times get tough. She works alongside parents to "Train up a child in the way he should go and when he is old, he will not depart from it." Proverbs 22:6 Welcome to the LCP family, Mrs. Mang!

Join our team!

Liberty Christian Prep is excited to announce our new 2nd Grade teacher, Mrs. Elliott. Mrs. Elliott began her teaching career in Lake County 25 years ago after graduating from Florida Christian College, now known as Johnson University Florida. She has a degree in Christian and Elementary Education. She has been married 22 years and has three children, two of whom are grown, and one of which will attend LCP in the fall. She has 12 years teaching experience and was a stay at home mom while her children were young. She has spent most of her time teaching in Christian schools. Her passion in teaching is to reflect Christ in all content areas and help children understand God is in all things and created all things. She wants to instill in them to become followers of Jesus and portray the characteristics we find in Colossians 3:12-13, "Therefore as God's chosen people, holy and dearly loved, clothe yourselves with compassion, kindness, humility, gentleness and patience. Bear with each other and forgive one another if any of you has a grievance against someone. Forgive as the Lord forgave you." Mrs. Elliott loves serving in her church, making cards, photography, reading Christian novels, sweet tea, and spending time with family and friends. She also loves the game of volleyball and has played the game herself in high school and college. She has been a part of a coaching staff by assisting or leading teams for about 10 years. She loves to share life values through the game of volleyball and how we can relate much of the game to living the Christian life. She is looking forward to being part of the Liberty Christian Prep family. Welcome to the LCP family, Mrs. Elliott!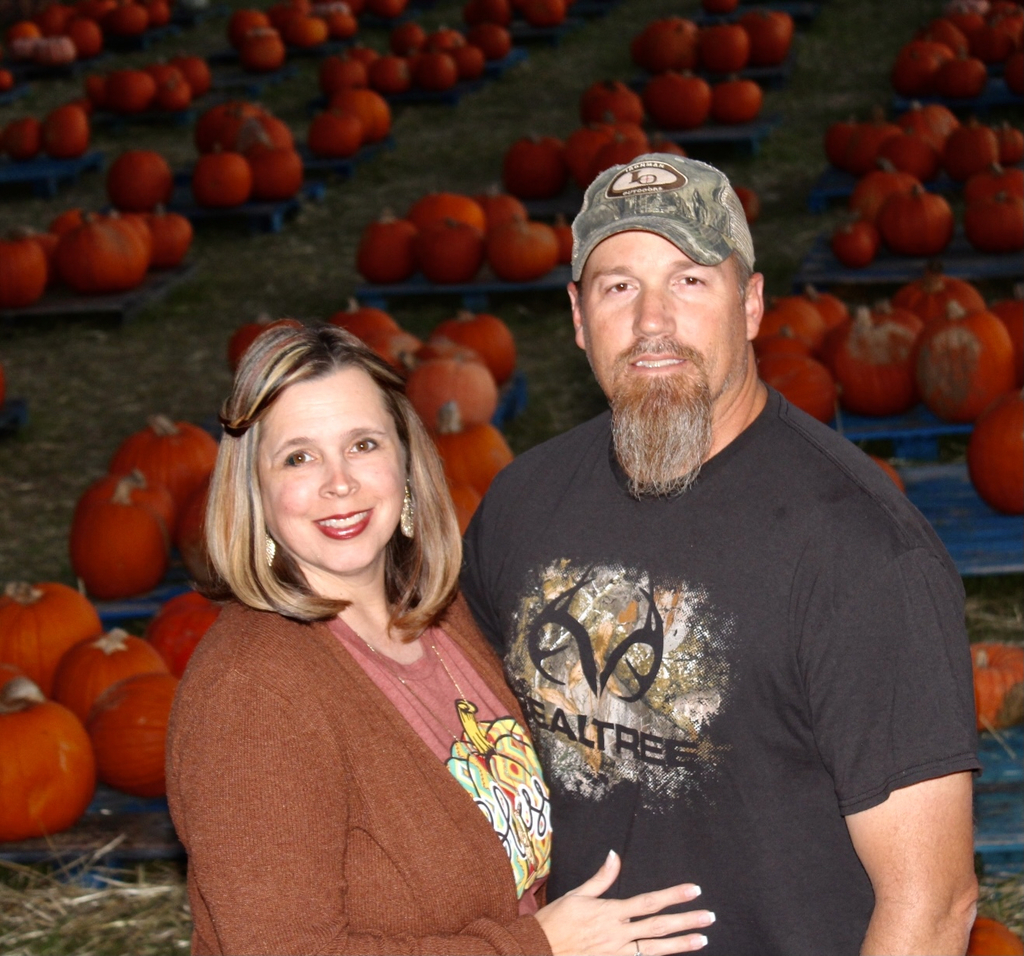 Liberty Christian Prep is excited to announce our new 4th Grade teacher, Mrs. Russell. Antrecia Russell is the wife of Kirk Russell Jr and the mother of five children (Brittany, Kristian, Kennedy, Kirk III, and Timothy). The Russell children will be attending LCP this fall. Mrs. Russell is a graduate of Southeastern University and is working on her masters degree. She loves children and enjoys developing a love for learning in young minds. She has dedicated her life to serving the Lord and His people for His glory. Welcome to the LCP family, Mrs. Russell!

This Week at LCP - May 23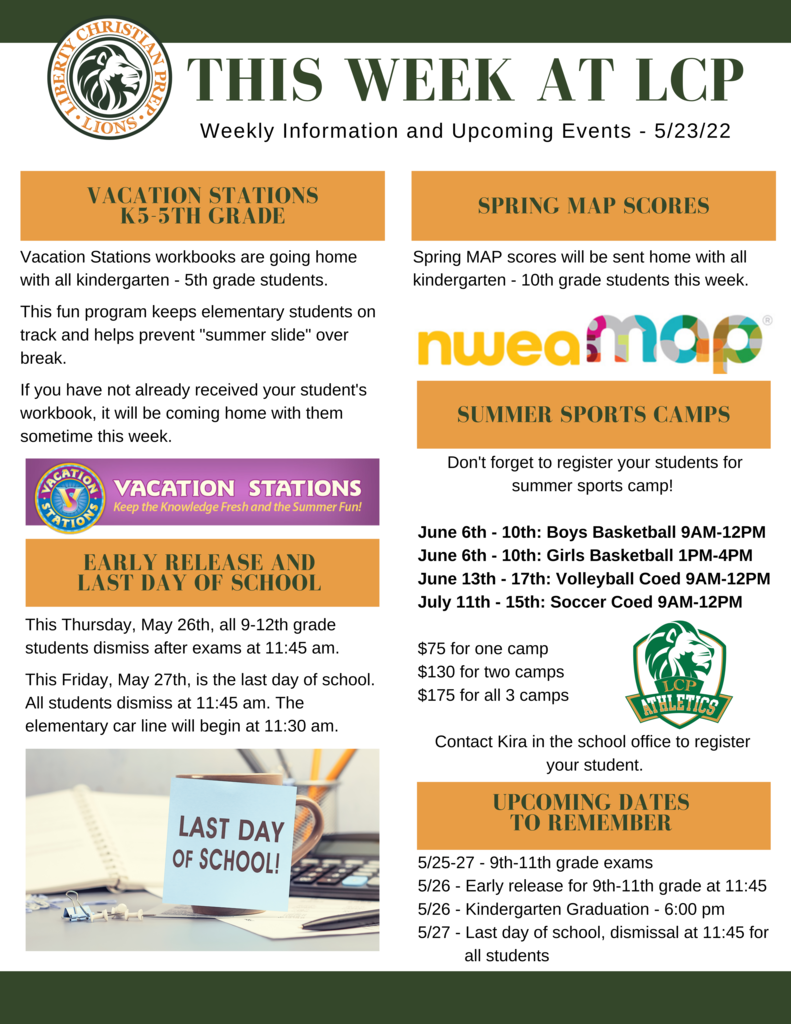 This Week at LCP - May 16

This Week at LCP - May 9, 2022

This Week at LCP - May 2, 2022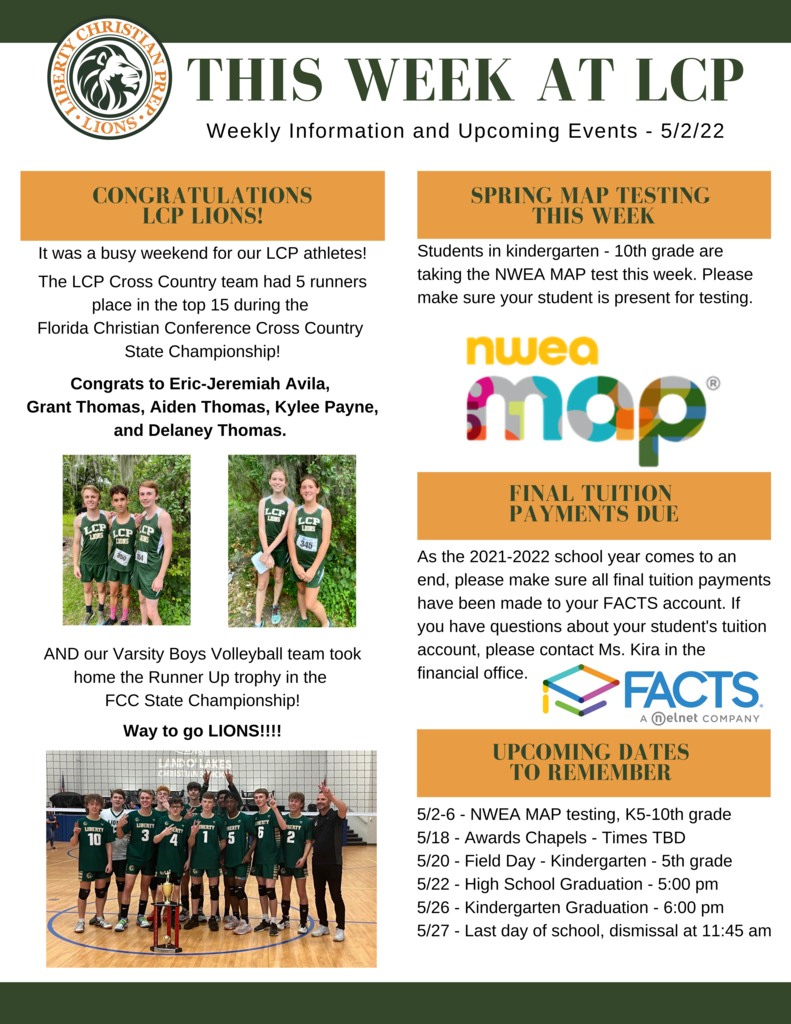 This Week at LCP - April 25

Congratulations to the LCP guys cross country team for taking first place last night!